gS-selfmade: Oceania © 2003, Frank Bacher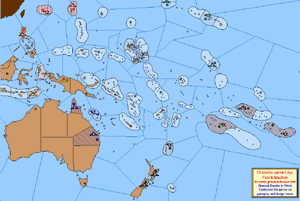 Oceania is a seven player Diplomacy variant.
Not suprisingly, Oceania consists of lots of island chains. These chains have some special characteristics. Basically two different types of island chains exist: Chains with only one space (e.g.Pitcairn Islands (pit) and so called multispaced island chains (e.g.Solomon Islands (nsi/ssi). The most important feature is that armies can move _directly_ from one island chain to another ("island hopping") as long as both chains (independent of being multispaced or singlespaced) border the same sea province. This feature is restricted to armies.
The reasoning behind these rules is that in our time movement from one island chain to another is easily possible by air, be it helicopters or water planes or whatever. Consequently fleets can't be transported by air and have to move between Island chains at "a slower pace".
Here you find the original info-text of this variant and the download of the Realpolitik variant-files.
This variant was playtested a few times. Here are the Realpolitik-files: Oceania I, Oceania II, Oceania III
If you wish to contact the designer send e-mail to: bacher@graue-substanz.net; Any questions, comments and/or suggestions are welcome.